None of the work we do would be possible without the tireless effort of these amazing people.
Ivana
Starting with Ivana, one our Rescuers on the ground in Macedonia.

Ivana is one of the hardest working girls, who will never turn a blind eye to dog in need, if she's not with her family/ in the office you can bet shes out helping the dogs! We are pleased to share her story with you!

"Tell us how you started to Rescue…"
I got into this from getting my first 2dogs and a cat I rescued from 2 days old and so I started in rescue when I was 23 active... That's 12 years ago. My first rescue pup was hit by a car, it had a broken leg we had no social media and our country had only one registered NGO who did nothing but tried to assist in legal cases. So I had to step up and do what was necessary to save her life.

"Why do you love doing this?"
"I love the happy endings most of all, every sleepless night, every wrinkle is worth it when I see a dog sleeping in a bed or walking on a beach vs what thry survived here. It's a disease really knowing you can help and you can save it and it CAN have a fabulous life instead eating from a garbage bin. So being awake and not turning your head a way is a disease in my country, in my broader family, they do not understand because they always think someone ELSE should do what everyone should be doing in a society where there is so much cruelty and indifference. Well so bit that SOMEONE ELSE will be me, as long as I can with every single supporters help and of course above all God. "

"What about your Pets…"
"Uh.. I start from my weak point, pit bulls. I had only 100 e to buy a dog, I said to myself, he will never experience that bad life. I raised him alongside my golden retriever girl and I did train him as best as I could. I can say from personal experience aggressive dogs are trained that way genetics has a lot to do with it BUT if you give that aggression a job it turn into a productive and not a destructive dog. From him I rescued 3 more females which I kept and rehabilitated to a state of playing with other dogs living with cats and chickens and ducks. Unfortunately my dogs can never sit on a sofa with me, and I can not sit them all down and make a Christmas photo, except in photoshop to collage all them together. My dogs are all seniors from 11 years old to 8years old."
Marija
This is our wonderful Marija aka The Boss... We wholeheartedly believe she is one in a million, you will never meet someone with such a big heart, so much time to always help all whilst being one of the busiest ladies in rescue! We asked Marija to tell us more about her and her dogs! ...

"This is me Marija At the age of 36 now, mom of 6, one 6 year old son named Milan, baby girl named Milena 1y old, and four 4 legged fur babies : Hektor- my first love, he opened the view into the rescue world for me, teaching me how to love unconditionally, how to lean to listen ,even in situations where is no word spoken; Kasko- the black mamba, I took him from the streets right after he was hit by a car. The first dog that ever bite me, since than I knew he is never going back to the crazy streets; Dzi Dza- taken 3 years ago, basically my husband came home one day holding something in his hands….that something had no fur on it. I knew then straight away when I saw her, that she needed help, and that she was staying with us; Jonny- our latest arrival, came on a freezing showy night, hungry, with lot of wounds…and you can guess…he stayed with us! I have a full time job working from 8-16h every day, I have a 6 year old son, and one year old baby girl, a husband and the pleasure to receive love on daily basis from all the innocent animals that come into our care. Doing this for 9 years now, I have learnt things that only rescue can teach, I have seen many devastated scenes, lives that were on the edge …which thankfully turned into happy endings. I am a social worker by profession, and a former professional athlete, so many skills I have gained even before joining the rescue team. I have a dream….a lot actually, but at the same time I have learned that patience is the key to many things, I usually say that we need to dream…but it is best if we dare to dream big…that is how our dreams can become a reality. I have dreamed about the dump, about helping those poor dogs that had no one…and look at us now…over 60 dogs saved from that horrible place right…. Dare to dream guys….it is worth it"
Pam
Without Pam Pawpers would not be the rescue we all know and love today, Pam is another angel on earth always willing to help save our dogs and do the very best by them.

" Hi, I'm Pam fundraiser for Pawpers in the Ruff. I'm 68 married with two grown children. I was originally a supervisor at M & S but left to start our family. I'm recently retired from being hands on with my husband in our home improvements business. I've always had a passion for animals which was probably passed onto me from my parents. My first love was horses and I spent as much time as I could at the local riding school. I've loved and lost three beautiful rescue dogs and I now have two cats, both who are the stray who came to stay.
I came across Pawpers in the Ruff quite by accident when I saw one of their posts, I joined the group and eventually became their fundraiser.
I love our group and the people I work with and the work we do, we are all working for the same aim, to try and help as many dogs as we can from their heart breaking circumstances. As much as I love doing what we do, my vision for the future is that groups like ours will no longer need to exist, but sadly it seems that the unnecessary cruelty and brutality is not going away…….so neither are we. We will continue to try and right the wrongs inflicted on these innocent dogs."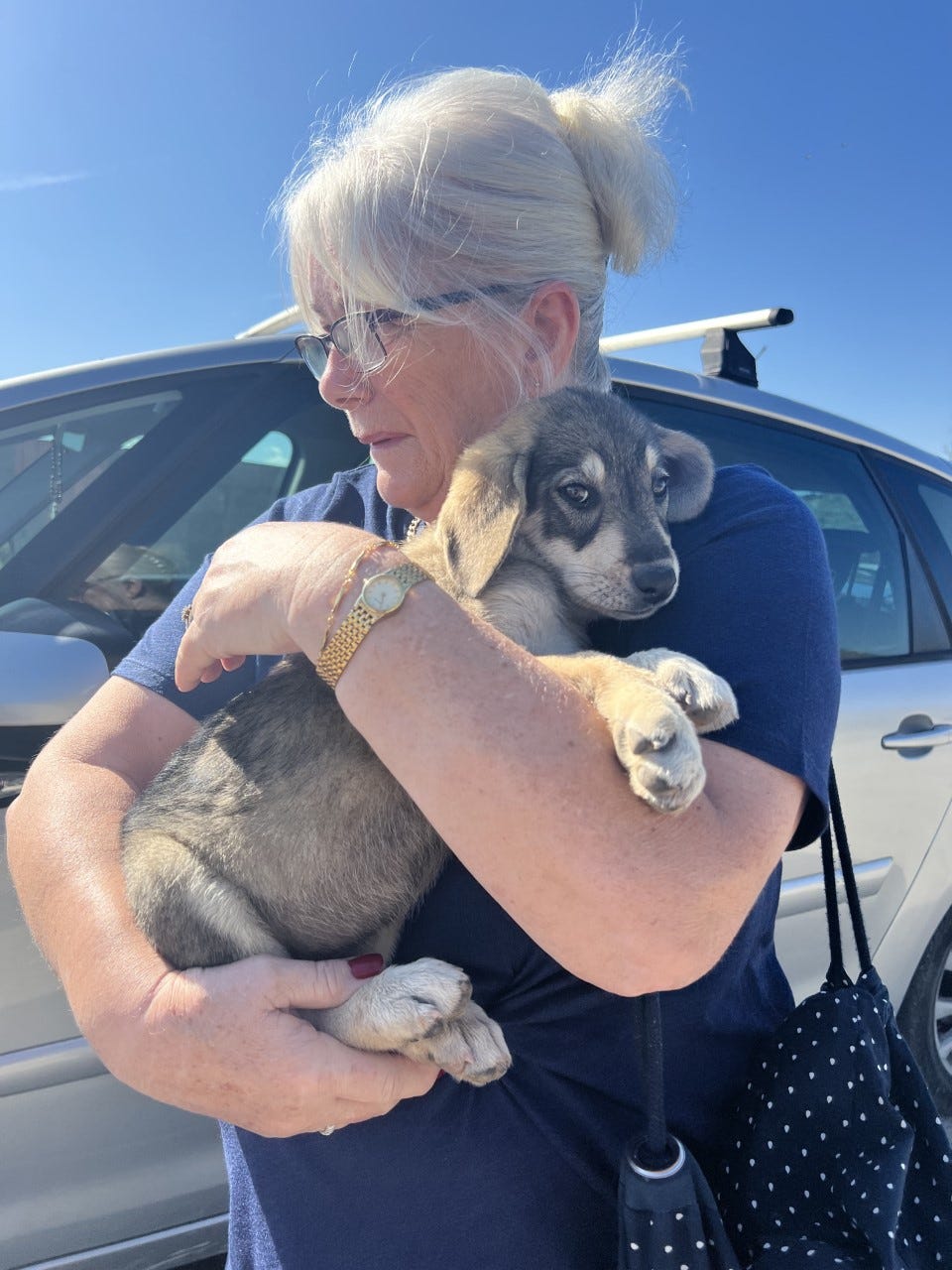 jess
An admin who has well deserved her place among us being a socal media wiz and a rock we can count on.

"I spend my days working with for a global technology provider helping people run their software and keep data secure, before and after work you will always find with my own two Pawpers dogs! Alfie and Lola, outside of my 9-5 I'm totally obsessed with dogs. I found Pawpers through rescuing my boy from them!

I totally fell in love with the girls rescue ethos, and the passion they have for helping the dogs, it's such a selfless caring thing they do day in and day out. I love Pawpers and the work because there is a team of strong women behind the scenes making sure our dogs get the best, making sure everyone has what they need and most importantly the dogs are treated with such care and love it's inspiring to watch the girls on the ground all their hard work! We get the easier jobs over here in the UK! I help Pawpers run their social media channels, help with adoptions, aftercare and alsorts! Ultimately we all want the best for the dogs if we are our the ground rescusing, helping with admin or donating. Nothing about Pawpers could work without the other parts always coming together. I also have two Pawpers dogs, who I love more than anything. I have always been brought with rescues from our lovely GSD to a pointer from the streets of Cyprus. My first dog love was Poppy our beautiful beagle who we had for over 12 years. She's the reason I so desperately wanted my own dog and getting my pair from Pawpers was the easiest decision as there is something so special about rescuing a dog from the streets and watching they grow into a confident happy dog"