Meet our dogs ready for adoption in macedonia...
Dogs on this page are currently located in Macedonia and all ready to travel to the UK.
All of the below apply to all our dogs...
A homecheck and fees apply for adoption.
All dogs come fully vaccinated and tested for Leishmaniasis, Anaplasmosis, Erlichiosis, Lyme Disease, Brucellosis and Heartworm.
All dogs come microchipped and with a Macedonian passport (including all their tests and vaccinations).
Rescue back up is provided in the UK for all our dogs.
Puppies are not spayed/neutered prior to travel due to age.
All applicants must understand that all rescue dogs need time to settle, adjust and a safe space to learn with positive reward training, lifetime support with rescue.
Our lovely girl Sage is also now on the lookout for her own place in someone's heart and home.
Sage (meaning wise, especially as a result of great experience) has certainly lived up to her name, we took her from her terrible existence and she was wise enough to come with us without hesitation.
Move forward to now and she has blossomed into a lovely healthy girl of approx 2-3 years old.
Sage appears to be ok with other dogs but it if preferred that she be a single dog or a resident dog would be male.
No children please unless teenage or older, but only because she can be a bit jumpy, and someone who could handle her as she can be a bit strong although with the correct training we feel this could be corrected.
Here he is, a new star is born - Vini.
Stylish, lovable, a real snug bug, a character that will fit any household and every setup.
Playful boy, aged 7 months, well mannered and very well behaved.
Vini is social to all dogs of all ages, not jumpy, over the teething phase, gets on well with cats although he is too young to actually understand they are a different species!

Will fit very nicely in a home with any age of kids, so please talk to your family and get everyone on board if you are making a decision to adopt a dog.
Meet our lovable, cheeky pup Maxwell!

This 4.5-month-old, male puppy was rescued from a hole in the dump and is now looking for his forever home. He'll be able to travel in June, on our next transport and will be 5.5 months old by travel time.

Although he's still a puppy, he will grow to be a large-sized dog, so he'll need a home with plenty of space to run and play. He's a social and friendly pup who loves making new friends, but he'll need an owner with experience handling larger dogs.

Due to his size, we're looking for a home with no children under 13.
Meet Esther, a 2-year-old medium-sized female dog looking for her forever home. She is great with dogs and loves to play, and is also wonderful with children, making her an excellent family dog. However, she cannot be homed with cats due to her prey drive.
Esther was a stray dog who went through the SNR program (spay, neuter, return), but she never felt comfortable on the streets. Fortunately, a kind sponsor stepped forward to provide a safe place for her. Esther has an old break on her front right paw which is inoperable, but it doesn't cause her any pain and she doesn't even notice it's different from her other paws.
We are looking for a loving and responsible adopter who can provide Esther with the care and attention she deserves. Adoption fees and homechecks apply, and a full RBU (rescue back-up) is in place to ensure that Esther will always have a safety net if needed.
Tongues out for Kora!
Kora was rescued from the streets at approximately 7 months old. She was petrified bless her, I mean who wouldn't be?
Kora was put through the spay, neuter programme however she never got returned to the streets and has been with us since. It's about time this beautiful girl found her forever home
Since being rescued by Pawpers, she has learnt to walk nicely on her lead and progressing every day!
Kora gets on well with other dogs and could live with another dog, but would require slow introductions and patience to be set up to succeed!
We are looking for a cat free home , and Kora would be suited to a home with children over 12 or a child free home!
A kind, sweet, lovely lady with so much love to give! She really is a beauty!
Kora is around 2.5 years old and is medium to large size.
Narna was rescued from a road, heavily pregnant in such a bad way and so poorly that sadly all her pups lost their lives But now we are determined to get Narna the lifetime home she deserves and has been waiting for
Narna is a beautiful 2 year old (approx) medium sized girly.
Friendly to people, dogs and even cats!
Families with children 10+
It's important to know that Narna does have leish... but please note she only requires a tablet every day for around 18 months. We can supply the medication needed and can discuss this further with the right adoptor
Princess Charlotte is looking for a home to call her own!
After leaving the dump a few months ago this girlie now finds her self at six months old and looking for a place to settle in!
Charlotte has never lived in a home before and will need showing the ropes, she will probably find it all very exciting given her age and will need her parents to help settle her in, she is a typical pup, playful, jumpy and can mouth.

All basic training required
Charlotte will be medium to large sized when fully grown and can live with dogs.
We will search high and low for a pawfect home for her.
Hi everyone, my name is Elsie.
I am a medium sized, fluffy, cuddly rescue dog! I am approximately 5 years old and am looking for a forever home.
I am super friendly with people and dogs, so promise I would be a good girl for many different families.
I have been diagnosed with Leish, and have gone through treatment for this. This will mean my new owners will need to monitor my health, but many Leish dogs live a full and active life. I really hope people can see past my illness and love me for me
Lola is has been waiting too long to be united with her furever family, one whole year of being ready and no suitable applications, one whole year of her life wasted in kennels and not feeling the love and warmth a home, one whole year of her slowing loosing hope
We just cannot understand why she's still here!!
Lola loves are all people, she's amazing, she likes her fuss and walks and just wants a place to call her own

Lola is spayed, and has been ready for a year, a whole year which hurts our heart.
She would prefer to be the only pet in the home. She is happy on walks with dogs, but she finds living with them a bit too much, she will guard her resources from another dog.

She would be very happy with a nice garden to call her own to spend the summer sunshine in and to patrol her pawrents house. Lola is around 18 months and a large sized mix breed.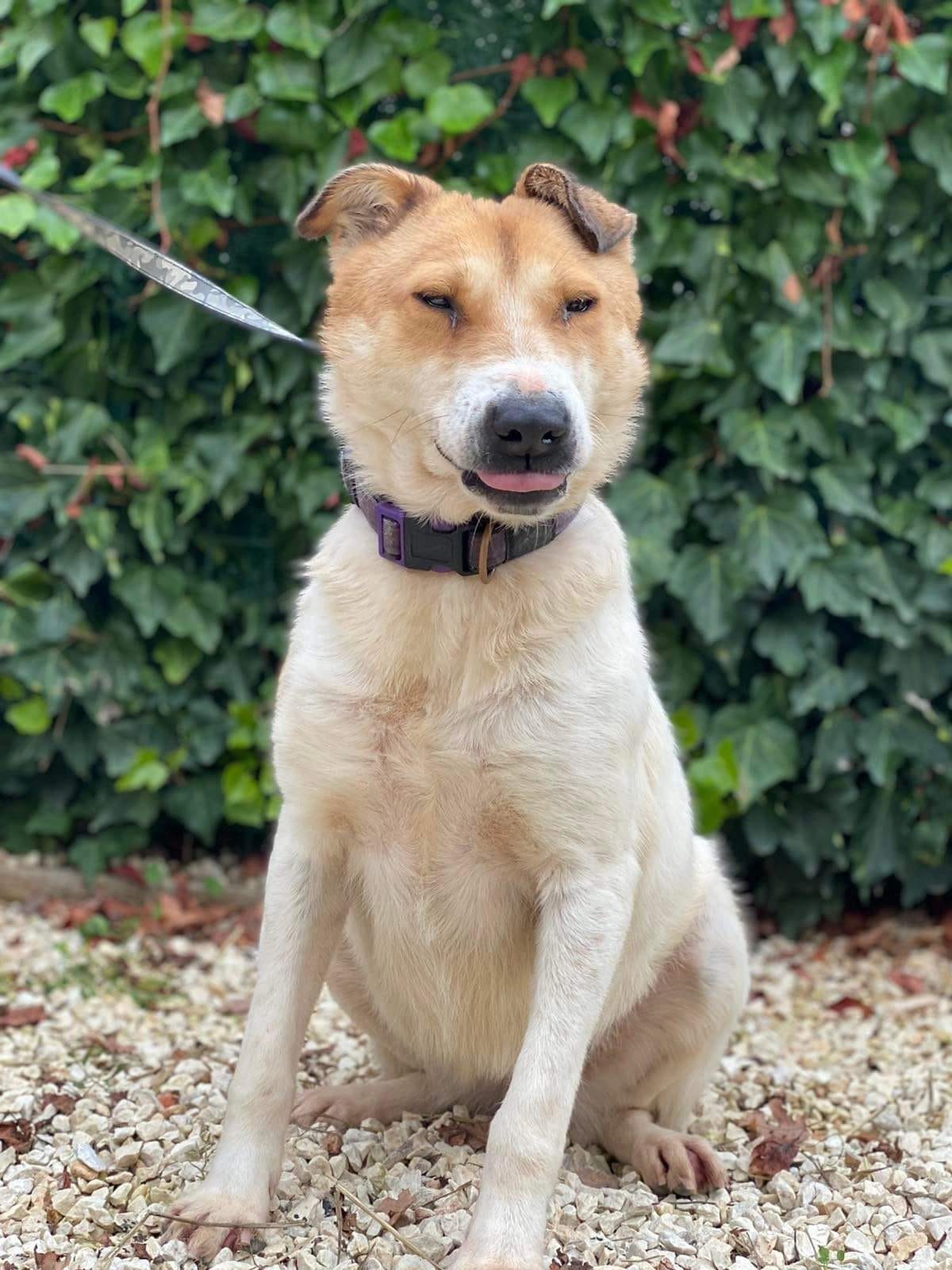 Be sure to check out our apodtion group on Facebook for more dogs!
Please note we have over 200 dogs in our care, not all dogs are posted on our website or group. Please fill out the adoption form and we can help match you to your perfect dogs.